‍
Organic search is a crucial component in the digital marketing landscape. It refers to the unpaid results that appear on a search engine results page (SERP), which are influenced by many factors such as relevance to the user's search query, domain authority, and effective search engine optimization (SEO) practices. This comprehensive guide will delve into the intricacies of organic search, highlighting its importance, how it works, and strategies to enhance your organic visibility.
The Power of Organic Search
Organic search is indispensable for businesses aiming to gain traffic or conversions without incurring costs associated with paid search. Unlike paid search where placement and clicks are chargeable, organic search results are obtained free of cost. This makes it a more cost-effective and sustainable strategy for businesses to increase their online visibility.
Quote: "The best place to hide a dead body is on page two of Google because no one is going to look there."
While this industry joke might bring a chuckle, it underscores a critical truth: if your webpage is not on the first page of SERPs, its chances of being seen are significantly lower. Boosting your website's organic visibility entails using strategies like keyword research, content optimization, and fixing technical issues that might impede a user's experience. Let's delve further into how organic search works.
Unveiling the Organic Search Process
Essentially, organic search revolves around providing the most relevant search result for a user when they input a specific keyword or query into a search platform. It involves a myriad of digital marketing strategies to ensure our result appears at the top, or at least on the first page, of search engine results.
However, securing a spot at the top of Google isn't accomplished by magic. It demands collaboration across various departments, executive support, a competent team of marketers and SEO specialists, and a robust method to track and monitor results.
The primary objective of organic search is to ensure the user has a seamless experience on your website and landing pages, and finds the answer they are seeking. This could involve consuming content, comparing products or services, or making a purchase. Hence, organic search can be categorized into three core components: relevancy, discoverability, and authority.
Relevancy: This refers to the correlation between a page's theme and content and the targeted keywords.
Discoverability: This denotes the ease with which a site can be found and indexed by search engines.
Authority: This pertains to the page's credibility within search engines.
The Importance of Organic Search for Businesses
In the digital age, consumers spend a significant amount of time seeking answers to questions or resolving issues via search engines. In fact, Google processes over 2 trillion searches every year. Hence, ensuring your website ranks highly on SERPs for relevant search terms is crucial for attracting organic traffic and potential conversions.
Moreover, the advent of smartphones has led to an increase in search queries, with Google witnessing around 15-20% of search queries it has never seen before on a daily basis. Therefore, investing in organic search is vital for businesses aiming to improve their online visibility and influence their customer's buyer's journey.
Organic Search vs. Paid Search: The Key Differences
While both organic and paid search aim to increase website visibility, they differ significantly in terms of cost and approach. Listed below are some key differences between the two:
Organic Search:
Focuses on boosting unpaid rankings in the search results.
Places search results in the center of the page.
Requires ongoing SEO efforts to achieve a top listing.
Is a more sustainable and cost-effective approach than paid search.
Involves regular maintenance of SEO strategies.
Paid Search:
Focuses on improving paid rankings in search engines.
Places search results at the top of the page.
Ensures immediate visibility with payment.
Ceases to bring traffic once the payment for the advertising campaign stops.
Requires upfront and ongoing maintenance costs.
Provides short-term outcomes.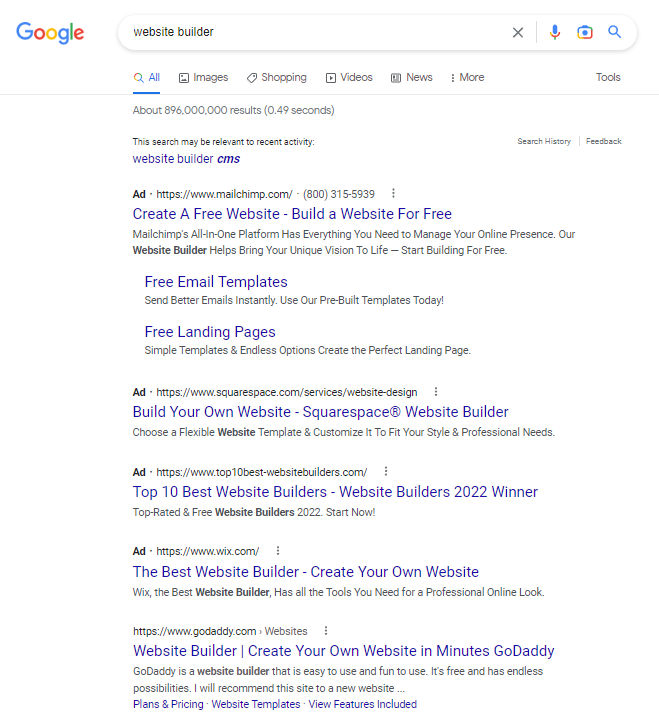 Kickstarting Your Organic Search Journey
Embarking on your SEO journey involves ensuring your website content is relevant and discoverable. At a high level, this involves creating relevant content and ensuring this content is accessible and technically sound.
Tuning into The Voice of the Customer
Firstly, it's crucial to create content that resonates with your customer's voice. This is where keyword research comes in handy. By conducting thorough keyword research, you can ensure your high-quality content is peppered with phrases that consumers actually search for.
Establishing a Sound Technical Foundation
Secondly, when creating your content or website, you need to ensure a solid technical foundation. Search engines like Google find your content by crawling all the links on your website and analyzing these links to understand the content on the page, which is then stored in the search index. If you make it difficult for Google to find your content or if your content loads slowly, Google will be less inclined to surface this content to users.
Monitoring and Measuring Results
Lastly, it's essential to monitor and measure the results of your SEO strategies. By employing enterprise SEO software or a smaller SEO tool, you can keep track of your keyword rankings, market share, and organic traffic to better understand what's working and when changes are needed.
Conclusion
Organic search is a potent tool for ensuring users find your content. By optimizing your content and website, you can reap the benefits of increased organic traffic, conversions, and brand recognition.
However, enhancing your organic visibility is not an easy task. It involves a lot of trial and error before figuring out what works. But once you crack the code, you can replicate those wins across your entire site.
By staying up to date on algorithm updates, new result types, and industry trends, you can ensure your site always stays at the top of search results.
For more advanced topics related to SEO, check out SEJ's SEO for Beginners Guide.
More resources:
Featured Image: smunu/Shutterstock